Borneo Holidays: Where to Go and What to Do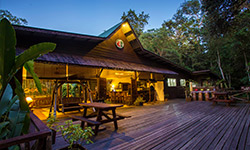 Are you planning a romantic getaway to Borneo? If so, then you already know that you've made an incredible decision. Borneo has an unbelievable amount of adventure to offer the soul of a wanderer. If you're planning a trip to Borneo, you need to make sure to do a good amount of research to figure out what you're going to do with your time. Of course, you can play it by ear, but there's so much to do on Borneo holidays that you should take the time to plan it out first.
Do Some Hiking
Mount Kinabalu is the tallest peak in Malaysia, making it the go-to spot for those that love a challenging hike. Borneo holidays are filled with adventure, so why not add a two-day trek to the top of Mount Kinabalu to your list? Not only will you be able to view a magnificent sunset from the top, but you'll also be able to brag to all of your friends about your incredible accomplishment.
Take a Train
Borneo holidays don't have to be chock full of excitement the entire time that you're there. Take a little bit of time to slow down by taking a ride on the North Borneo steam railway. You'll be able to enjoy the day passing through the breathtaking rainforests and quaint little villages of Borneo.
Say Hello to the Orangutans
Borneo is one of the only places in the world where you can see orangutans in their natural environment. Visit our official website to schedule a tour to witness these majestic creatures in their natural habitat.
Borneo is a magical place full of life-changing experiences. If you're planning a trip to Borneo, make sure to take some time to enjoy the natural beauty and wonder that it has to offer.